---
Dan Shapley, senior editor of TheDailyGreen.com, will moderate a panel discussion among various brands that were recently named 2011 Heart of Green Winners (to be announced April 4). The Daily Green, the Hearst-owned top 5 green living website, is dedicated to helping all things "green" go mainstream, and its fourth annual Heart of Green Awards celebrate those people, places, organizations and brands that do just that. The discussion will include leading brands in the fashion and beauty, cleaning and automotive categories.
back to top
---

Hearst Tower: Not Just a Better Skyline, A Better Sky
Lou Nowikas
Director of Operations, Real Estate & Facilities Planning
Hearst Corporation
When Hearst Tower, Hearst Corporation's global headquarters, opened in New York City in the fall of 2006, it proved that building "green" is the way of the future. The 46-story structure, designed by renowned architect Lord Norman Foster, boasts an innovative glass-and-steel design that eliminated the need for 2,000 tons of steel and makes efficient use of energy, light and water in its day-to-day operations. Even more, Hearst Tower is equipped with Wi-Fi access, a state-of-the-art broadcast studio, digital photography center, fitness facility, wellness center, full-service café, 168-seat theater, two art galleries and the famed Good Housekeeping Research Institute.
In this presentation, you will learn how recent improvements to the Gold LEED-certified Hearst Tower redefine what's possible for operating a green office building today and how Hearst management continually strives to raise the bar on environmental efficiency.
back to top
---
Authentic Marketing: Corporate America's Next Big Challenge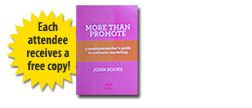 John Rooks
CEO/Founder
The SOAP Group

Alisa Conroy
VP of Strategy
The SOAP Group
Join marketing innovators John Rooks and Alisa Conroy from The SOAP Group as they discuss new marketing strategies designed to bring out the most authentic aspects of corporate and NGO brands. John and Alisa will demonstrate how to activate your brand using promotions anchored on three points of value: Corporate, Civic and Cultural. Audience members will participate in selecting the finalists for the inaugural More Than Promote® Mashup Awards.
back to top
---
For over 100 years, Americans have looked for the Good Housekeeping Seal, one of our country's most trusted and influential consumer emblems, to help guide their product purchasing decisions. In response to the tremendous confusion that consumers now have about the clutter of green claims on thousands of products, the Good Housekeeping Research Institute (GHRI) recently launched the Green Good Housekeeping Seal. GHRI Director Miriam Arond and Technical Director Stacy Genovese will discuss how they worked with external environmental experts to develop the criteria for this new green emblem, category by category.
back to top
---
Jump Starting the Movement – Insight and Foresight from the GfK Roper Green Gauge® Studies




Holly Heline Jarrell
Group Managing Director
GfK Roper Consulting

Timothy J. Kenyon
Manager, Consulting
GfK Roper Consulting
The latest research from GfK Roper suggests that green could use a jump start.  The sobering economy of the past three years has caused the green movement to stagnate in the US and to lose momentum around the world.  Perceived missteps by government and business have also helped create a more skeptical environment for green marketing.  The very good news, however, is that consumers are still thirsty for greener options – but they need meaningful motivation from marketers. 
Join Holly Jarrell and Tim Kenyon from GfK Roper Consulting as they diagnose the current state of green and chart a new course for a greener future.  Drawing on 25,000-plus interviews with consumers from twenty five countries, Holly and Tim will provide consumer level insight and foresight into environmental attitudes and behaviors in the US and abroad.  This engaging research is intended to provide valuable information to help marketers jump start their green efforts.
back to top
---
In this entertaining and fast paced talk Steve Thomas, former host of This Old House, The History Channel and Renovation Nation on Planet Green, gives a simple and robust explanation of what green building is and why we should build that way. Illustrated with photographs from his film projects on the space program and Alaska, as well as This Old House, Renovation Nation, his own building projects and his time on the Arctic sea ice and sailing with the native navigators of Micronesia, Steve will leave you with a clear and simple understanding of the principals of green building and why building sustainably is necessary for the health of our planet, the Pale Blue Dot.
back to top
---
Helping End Deforestation, One Sales Rep at a Time: Avon's "Hello Green Tomorrow" Campaign




Diane MacEachern
Founder & CEO
Big Green Purse

Susan Arnot Heaney
Director, Corporate Responsibility
Avon Products, Inc.
Avon Products, Inc. is known for being "the" company for women, with philanthropy focused on breast cancer and domestic violence, two key issues for women. But now Avon has also decided to apply its resources and unique ability to mobilize and engage people to address a global environmental issue: deforestation. To ensure authenticity, Avon first addressed its own business enterprise, and among the steps it's taken is to launch the Avon Paper Promise, a global commitment to substantially reduce its own paper use and support sustainable forestry. But it's also gone a step further: in 2010 Avon leveraged its worldwide woman-to- woman network to launch a grassroots mobilization and fundraising campaign to help end deforestation, generating over $2 million for The Nature Conservancy's work to restore the Atlantic Rain Forest in South America.
Diane MacEachern of Big Green Purse will interview Susan Arnot Heaney, Avon's Director of Corporate Responsibility, one year into Avon's global "Hello Green Tomorrow" program. What inspired Susan and her team to launch "Hello Green Tomorrow"? What unexpected challenges did they face? What strategies succeeded beyond their wildest dreams? How did Avon pick the organizations it partnered with? Why is Avon willing to spend time and budget on a project that may or may not sell its products? Find out what worked, what didn't, and what's in store for the second year of Avon's "Hello Green Tomorrow".
back to top
---
Is Green Organic to Your Company or Just a Layer of Noise Pollution? SCA a Green Story




Mike Kapalko
Sustainability Marketing Manager
SCA Tissue North America

Mary Shaughnessy
Vice President Group Account Director
Cramer-Krasselt
The difference between a company that claims to live a sustainable life and one that truly fulfills this aspiration resides in its ability to transform messaging into normalized behavior. It's more than capitalizing on the one-off initiatives and product offerings that emanate from a green division. Green living calls for you to make sustainability part of your DNA. Conversely, if your company has a long standing history of leading the sustainability charge, like SCA, you may have the urge to pound your chest in this new age of green marketing. Despite 80 years of headship in the area of sustainability, SCA took another approach by assuming a modest identity as the quiet leader. Quiet leaders are powerful. They are focused. And most importantly, they are committed to transforming their words into bold actions.

This session will focus on those actions. It will include a lean forward approach to telling the company story. Partnering with like-minded sustainability and hygiene thought leaders and committing to your actions; even if you're not 100 percent sure they will resonate. And this session will show how to take a good look at your company's sustainability efforts and find a unique strategy to showcase those efforts.
Consumers and businesses have heard the stories. It's time to stop the noise pollution and lead with action.
back to top
---

Marketing Sustainability: Dos, Don'ts, and D'uhs
Michael S. Brown, Ph.D.
Principal
Brown And Wilmanns Environmental, LLC
Marketers are often caught between a rock and a hard place when they communicate about social responsibility activities in organizations and the environmental attributes of products and services. Meeting the expectations of consumers for information about corporate sustainability and environmentally preferable products while avoiding the taint of greenwashing, is a very tough chore. It's especially difficult when things are complex and highly technical. Mike Brown will share his decades of experience addressing marketing issues as the sustainability expert at Patagonia and as a consultant working with a wide range of industries. Using examples of good and poor communications such as advertisements and marketing materials, he'll explain the dos, don'ts, and obvious d'uhs of communicating information about sustainability and environmental performance.
back to top
---

Lean Back, Lean Forward and Deliver on Our Green Promise: Treading "Greenly" with a Big Impact and Huge Reach
Nick Harris
Director of Digital Marketing
Benjamin Moore Paints
Everyday, around the globe, millions of eager eyes and fingers activate, explore, communicate and connect through an assortment of electronic mobile devices – laptops, smart phones, tablets. Products are launched, consumers engaged, and sales consummated as fingertips glide across a screen or tap a keyboard.
There are some very persuasive green reasons behind employing mobile/digital programs as an integral part of your marketing campaigns. First and foremost, most everyone on the planet is on a mobile device; arguably the best tool today to target and tap into customers; and the outreach is paperless, VOC-free, with zero emission activation across all borders. Benjamin Moore began its digital journey to reach its segmented customers over two years ago and this quiet green company leads the way in its category on how to do it right and green.
back to top
---

More than Marketing: Nestlé Waters' Sustainability Story
Bob Davino
Vice President of Marketing
Nestlé Waters North America
As the third largest non-alcoholic beverage company in the U.S., and member of an industry often under fire, Nestlé Waters North America has long understood the importance of sustainable business decisions. In the interest of both the environment and the bottom line, sustainability at Nestlé Waters is data-driven, and has evolved over the past decade to include lightweighting and other packaging advancements, product life cycle and greenhouse gas analyses, water footprinting studies, and green building design and construction.
In this session, Nestlé Waters' Vice President of Marketing, Bob Davino, will chronicle the company's sustainability journey, the important messages behind its leading brand portfolio, and how Nestlé Waters leverages its brands to raise awareness and share its sustainability aspirations with stakeholders.
back to top
---

From The Road to Luxury...Design With The Environment in Mind
Ken Kobrick
Co-Founder
Passchal
So far 56 tons of tractor tire inner tubes have been collected and turned into luxe designer hand bags, satchels and duffels. Follow the journey from concept to manufacturing to marketing. See how it's done in this real world eco-success story from Passchal Co-Founder Ken Kobrick. Ken's interviews have included Entrepreneur magazine, BBC Radio, CNN and West Coast Women. Passchal bags have appeared on the Today Show, Japan's Fuji TV, Access Hollywood and back stage at the Tony Awards.
back to top
---

Building a Winery on Three E's: Economics, Environment and Social Equity
Tim Thornhill
Partner
Mendocino Wine Company
Discover how one of California's oldest wineries underwent a dramatic transformation to become one of the nation's greenest. Owner Tim Thornhill will explore the development of his 'nothing is impossible' world view and Parducci Wine Cellars' journey to become "America's Greenest Winery. Tim will also reveal how these important lessons can be applied to other businesses and individuals.
"Sustainability is a not a destination, but an active journey. We can always find room for improvement," Tim Thornhill says. "We can do anything with goal setting, teamwork, and good communication".
back to top
---

Take Two and TEXT Me in the Morning: How to Activate and Engage Generation Y
Michael Parrish DuDell
Senior Editor
Ecorazzi
With over 70 million members dropping nearly $200 billion a year in cold hard cash, Generation Y (or the Millennial Generation) is not to be ignored! But how do you effectively reach this illustrious group of high-achieving, communication-obsessed social extroverts? How do you market to a generation that, quite simply, doesn't wish to be marketed to?
Combining his experience in the fast-paced worlds of sustainable living, new media, and Gen Y culture, Michael Parrish DuDell will help navigate you down the winding road of youth consumerism and provide an inside look at how to talk – and listen – to one of the world's most powerful generations.
back to top
---
The Model of Chipotle: The Delicate Balance of Business and Sustainability




Bob Safian
Editor and Managing Director
Fast Company

Mark Crumpacker
Chief Marketing Officer
Chipotle Mexican Grill
Fast Company editor Bob Safian will lead this one-on-one discussion with Mark Crumpacker, Chief Marketing Officer of Chipotle about the chain's success. The company is a leader in sustainability-from their Food With Integrity campaign, where they purchase local, organic ingredients, to their green building practices and successful business model. Safian will explore the chain's unique approach to sustainability, the marketing campaigns surrounding those efforts, and share innovative and inspiring ideas to grow your business.
back to top
---
Inspiring Women to Be "Future Friendly": How P&G Harnesses Social Engagement to Show That Small Steps Can Make a Big Difference




Aliza Freud
Founder and Chief Executive Officer
SheSpeaks, Inc.

Kara Gaffney
Social Engagement and Sustainability Manager
PainePR
Helping consumers improve their environmental performance is one critical way Procter & Gamble fulfills its purpose of improving lives, now and for generations to come. As part of its long-term commitment to environmental responsibility, P&G launched "Future Friendly" – a conservation education platform designed to reach and inspire mainstream consumers to make simple household changes that save energy, save water and reduce waste.
P&G worked with PainePR and SheSpeaks to create an online and offline community & campaign to inspire women to lead a "Future Friendly" lifestyle and receive feedback on how small changes can have a meaningful impact. Aliza and Kara will explain how they reached hundreds of thousands of consumers through a community of 5,000 women and helped them realize they could be a force for change.
back to top