Press Release
Contacts:
Nan McCann, PME Enterprises, LLC
Phone: (860) 724-2649 x13 | nan@pme-events.com
Michael Parrish DuDell Voted Best Speaker At Good And Green Marketing Conference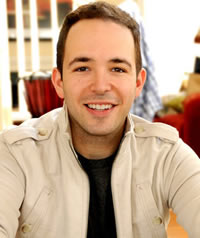 New York, NY –June 22, 2011 – Michael Parrish DuDell, Senior Editor, Ecorazzi was chosen the "You Take The Cake" award best speaker by the brand marketing and agency executives who attended the 4th Good And Green® – The Green Marketing Conference. This year's conference, presented by The Daily Green and Good Housekeeping, was held May 11 & 12 in the Hearst Tower, 300 West 57th Street, New York, NY.
"I am absolutely thrilled to win the 2011 Good And Green® best speaker award," stated DuDell. "Businesses are finally beginning to understand that sustainable innovation is truly the wave of the future, and there's nothing more exciting than being at the epicenter of that revelation. The Good And Green® Marketing Conference provides a valuable opportunity for forward-thinking companies to learn and share together. I'm proud to be a part of this event, and honored to win the 'You Take the Cake' award."
DuDell won for his presentation, "Take Two and TEXT Me in the Morning: How to Activate and Engage Generation Y" which taught marketers how to effectively reach the Millennial Generation. It showed them how to navigate the winding road of youth consumerism. He provided an inside look at how to talk and listen to one of the world's most powerful generations. Its over 70 million members spend nearly $200 billion a year.
DuDell's session drew on his experience in the fast-paced worlds of sustainable living, new media, and Gen Y culture. In addition to his position with Ecorazzi he is the managing editor of The Domino Project – a new publishing venture started by Seth Godin and powered by Amazon. DuDell is also a frequent contributor to publications like The Huffington Post, Crazy Sexy Life, and VegNews magazine.
Additionally, in 2009 DuDelll co-founded the Sustainable Leadership Council — a coalition of experts focusing on food sustainability in New York City. Michael regularly consults with companies on issues relating to Generation Y and social change and is currently working with American Express on the ZYNC card.
"In addition to DuDell's presentation, other highlights this year included cutting-edge research from GfK's Green Gauge® Global Report, case studies from Avon, Benjamin Moore, Chipotle and SCA Tissue, and a keynote detailing the story and the criteria behind the development of the new Green Good Housekeeping Seal. On the fun side," Nan McCann, Good And Green® producer added, "attendees were treated to personal tours of the renowned Good Housekeeping Research Institute, a Hearst treasure on the 29th floor… the views were fabulous, but seeing their impressive testing labs was even better."
Presenting Sponsors, Good Housekeeping and The Daily Green, were joined by Associate Sponsors: SCA Tissue North America, GfK Roper Consulting, Brown and Wilmanns Environmental, Benjamin Moore & Co.; Showcase Sponsors: Nestle Waters, The SOAP Group, Big Green Purse, Pentel, Passchal, Carolina Pad, Ecorazzi.com, and Parducci, SheSpeaks, PlanetEarthPromotions.com; Media Sponsor: Fast Company and Video Content Resource: Snippies.
Good And Green® www.goodandgreen.biz is produced by PME® Enterprises LLC, 216 Main Street, Hartford, CT 06106. For conference information contact Nan McCann, President, 860.724.2649 x13.